Staying safe during COVID
As a part of the Utah business community, and as a member of Utah's community as a whole, I recognize the need to comply with health guidelines to protect myself, my clients, and our vulnerable population.
I recognize the importance of following health guidelines to show care, consideration, and appreciation for my clients and to do my part to protect Utah's population and economy.
On behalf of Pets Decoded LLC, I acknowledge that I have read, understand and my business will comply with the current version of the Phased Guidelines for the General Public and Businesses to Maximize Public Health and Economic Reactivation an addendum as referenced in the Utah Leads Together Plan.
Find out more: Stay Open Utah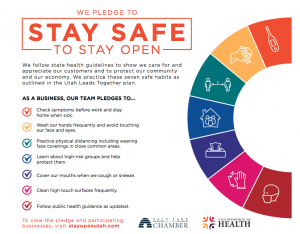 To ensure the safety of my clients I endeavor to:
Check symptoms and stay home if sick
Practice social distancing. I am fully vaccinated and clients may choose to wear a mask
Wash hands frequently
Follow public health guidance as updated