Relationship-Based Dog Training
Relationship-based dog training is the perfect start for puppies, newly adopted dogs, and of course your faithful old friend. Relationship-based dog training takes into account your needs but equally, your dog's needs, thought processes, emotions, and behavior. The outcome is often a happier, more confident, well-adjusted dog with a zest for life and resilience for whatever life can throw at him.
What are your training goals?
If your goal is to have a dog that does 'x' immediately because "I said so!", or because you are the alpha or dominant player, then this is not the approach for you.
BUT if your goals are to build a relationship based upon mutual trust, positively encourage the behavior you want (specific cues), interpret body language, understand and use your dog's motivations to your advantage, set your dog up for success, avoid aversive methods AND enjoy training together then this IS the approach for you.
What are our goals?
Our goals are for you and your dog to learn together, thereby enhancing and strengthening the bond between you. Training builds two-way communication, based on giving your dog guidance, rewarding the right behavior, and providing boundaries and feedback.
What we don't do
We do not use or advocate the use of aversive methods inc. pinch, prong, or shock collars (e-collars), or dominance/pack theory approaches (aka traditional methods). These methods can negatively impact a dog's mental and physical welfare when compared to more positive methods. And they are rarely if ever necessary.
Lynne Gilbert-Norton (behaviorist) and Madeline Wagner (trainer) conduct the initial behavioral intake. Madeline then conducts private training lessons. This means you have the best support from our team in training your dog. Training sessions can be bought individually or in packages of 3, or 6 lessons. Private training lessons are not designed to address serious behavioral issues addressed using modification with the behaviorist through the Kickstarter Packages.
Not sure if private training lessons or behavioral modification is right for your dog? Email petsdecoded@gmail.com with your specific questions.
Meet the Trainer: Madeline Wagner
As a behaviorist, I'm a great believer in harnessing untapped natural talent, which is why I invited Madeline to join and train with me. Madeline is a previous client who trained her reactive dog Rowan to be the best he can be, which is a confident happy boy.
Together our goal is to help you and your dog lead happy, content, and stress-free lives. We want to teach you training methods that make you feel comfortable with your dog and are not at odds with your need to do right by your dog. We think you both deserve that!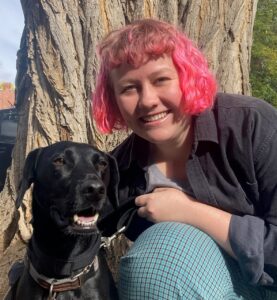 Madeline and Rowan
"I am a passionate and intuitive dog trainer who uses my problem-solving abilities to help dogs work through a variety of issues, and I am currently working towards professional certification. I have personal experience working through reactivity with my dog, Rowan. This experience makes me understand the difficulties of working with reactive dogs and taught me the importance of approaching all training, regardless of the goal, with kindness and patience. I am excited to help you improve your relationship with your dogs." – Madeline
Encourage cues positively
, interpret body language, understand motivations, set your dog up for success, and
enjoy training!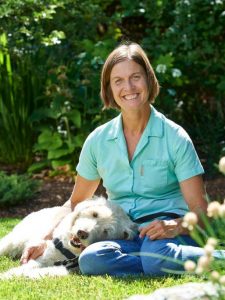 Relationship-Based Dog Training
The initial behavioral intake is conducted by Lynne Gilbert-Norton and Madeline Wagner. Training sessions are conducted by Madeline in real-life settings (parks, stores, etc.), or your own home. You benefit from one-on-one attention, which provides many benefits over group training classes held in an indoor setting.
Option A. 1-hour behavioral intake ($120) + 1-hour training session ($60)**
Training pointers after the training session
Total $180
Training packages reduce the cost of individual sessions, and can improve training outcomes:
Option B. 1-hour behavioral intake ($120) + 3 x 1-hour training sessions ($165)**
Training pointers after each training session
Total $285
Option C. 1-hour behavioral intake ($120) + 6 x 1-hour training sessions ($300)**
Training pointers after each session
Total $420
**Mileage will be added @ 2022 IRS mileage rate for journeys over 15 miles round trip from zip 84105
TRAINING sessions are available Fridays at 2 pm or 4 pm for NEW clients.