Behavioral issues? Reactivity, barking, chewing, fear, or anxiety etc.
What to expect in hiring a behaviorist?
Hiring a behaviorist is not the same as hiring a trainer. I do not fix your problems for you. Instead, we are a team. Behavioral modification is a self-help process in which you and your dog learn together under my guidance.
Each package includes an initial 1 – 1.5 hour consultation and 3 x 1-hour follow-up sessions. These sessions may be in-person or by Zoom, depending upon the type of problem. Some behavioral issues e.g., separation anxiety, in-home dog-dog aggression, and even some reactivity may require remote collaboration between sessions.
Some behavioral issues take time to improve and these long haulers may require further consultations. We will discuss your progress and whether further sessions are beneficial or necessary during your last session.
BEHAVIORAL consultations are available Wednesdays and Thursdays at 10 am or 4 pm for NEW clients.
Behavioral issues are considered on a case-by-case basis and include, but are not limited to, the following issues:
Exuberance and boundary issues: jumping, barking, pulling, digging, chewing, etc.

Reactivity/aggression: considered on a case-by-case basis (see below)

Anxieties: separation and general

Fears and phobias
Behavioral Package:
In-home consultation & training sessions
Total Cost – $875*
*May be paid in 4 installments at each session
Mileage (@ 2023 IRS rate) will be added for each visit over 15 miles (round trip) from 84105
Package includes:
Initial 1 – 1.5-hour in-home consultation on the behavioral issue
3 x 1-hour follow-up sessions at 3-4 week intervals
Training pointers after consult and each training session
Report for your veterinarian
Further 1-hour sessions are available: $150 per hour to continue training
Please note follow-up sessions with a cancellation of less than 24 hours notice will be forfeited. Unused sessions will expire 4 months after the initial evaluation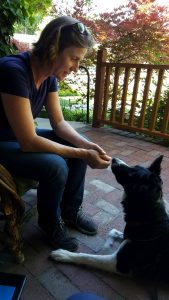 Am I the right professional for your dog's reactivity/aggression issue?
Reactivity versus aggression?
Reactivity is an overreaction to stimuli and may include growling, barking, lunging, and difficulty to control (#1 – 5 on the ladder to aggression). Reactivity can lead to aggression if left unaddressed.
Aggression is hostile, injurious (biting) behavior aimed at a person or animal without provocation (# 6 – 9 on the ladder to aggression). The dog has a known propensity, tendency, or disposition to attack.
The ladder to aggression
Becoming still or rigid

Threatening: growling or barking

Lunging, charging (no contact)

Muzzle punching

Showing teeth or air snapping

Nipping or biting quickly (tears skin)

Biting (bruises or puncture wounds)

Rapid repeated biting

Biting and shaking
Has your dog caused injury?
If your dog has caused injury to a human or domestic animal using any of the biting styles described (# 6 – 9 on the ladder to aggression), then I may NOT the professional for your dog. After evaluating your case I may suggest anther avenue of help, including one of the following trainers, consultants, or veterinarian behaviorists who see aggression cases:
*** BEWARE THE FALLACY OF BEHAVIORAL CHANGE
There is no magic bullet or quick fixes to behavioral problems such as reactivity, barking, chewing, fear, or anxiety. There should be no given guarantees that a pet's behavior is going to be 'fixed' or will match unrealistic expectations. Behavioral modification requires work, consistency, dedication, and effort from YOU. The longer your pet has rehearsed the negative behavior, or the older your pet is at the time you seek professional help, the longer your work and the modification journey is likely to take, but most behavior can usually be improved to some extent. Behavioral modification can take weeks (e.g., barking, leash-pulling, counter surfing, etc.), months (e.g., reactivity), or perhaps even years (e.g., fear and anxiety disorders) to see significant progress. Success rarely is a complete transformation. Rather, success is measured in the small incremental breakthroughs in a positive direction that you can have with your pet.