Don't take my word for it….aggression, reactivity, fearfulness, anxiety oh my!
Check out the latest Google Reviews for Pets Decoded LLC
Richard & Malibu (Bu)
Private training: too much dog!
If you are looking for an outstanding trainer I cannot overstate how much I recommend Lynne. I have had many dogs over the years and for the most part, have done a suitable enough job. Then we got a Vizsla/Lab mix who is literally the most high-energy dog I have ever had! I admitted I was over my head at about 6 months and found Lynne after an exhaustive search.
In addition to Bu's boundless energy, she is also a very nervous/skittish dog. Lynne is extremely observant and doesn't take a one-size-fits-all approach. She assesses the individual need of the animal and then tailors a program to fit their specific needs. I know this because I pulled her to also help with my daughter's min pin that can be quite aggressive with visitors and is quite the barker. Lynne has not only helped train Bu to where I can calmly walk her through stores, but she also helped me be a better owner and taught me to understand the behaviors of our pets and how to get the responses that we are looking for. Rest assured Lynne will help your dog be the best they can be and help you be the best owner you can be.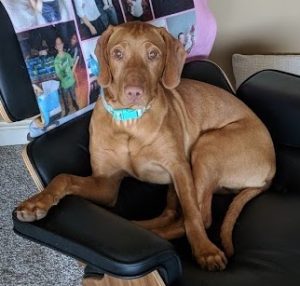 Amanda, Daniel & Maple
Separation Anxiety
Thank you for your help because Maple has been doing really well! Changing from the kennel to free-roam has really helped – he loves the bed! It seems obvious now, but it never even occurred to us to try that. He also adjusted very quickly with the "warm-ups" and became indifferent to that within just a few days. So far, we have gone slowly enough and practiced so we haven't seen him show any signs of anxiety! I think it has reduced our anxiety about leaving too, and we feel that we can get out a little more without risking him getting panicked.
So, we really appreciated your suggestions and they have helped a lot.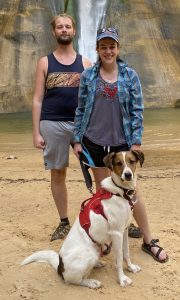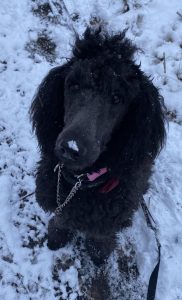 Stephanie & Tallulah
Extreme fear
I had to share… it took 9 weeks and 3 days of living here; but finally tonight Tallulah went up the stairs all by herself! Thank you! Tallulah was such a wreck of a mess of an under-socialized 7 months old poodle and was facing a sad life of fear hiding behind a coffee table in the one-room where she felt halfway comfortable in. Now she is bouncing off the couch playing with toys. On her recent spay day, she jumps in the car by herself, willingly followed me into the clinic, and allowed the vet to examine her and put her under. She is letting a select few numbers of people pet her and not losing her mind when people come in.
Heidi & Penelope
Trouble at the vet!
Thank you!!!!! I just wanted to let you know that we took Penelope to the vet today. I think we told you about the horrible experience we had at the vet the first time we took her. The tech that was with the vet when we went last time, came to take Penelope. Penelope went and loved her and leaned on her and did tricks for treats. She was sooo sweet, unlike last time. When they took her back to get her blood drawn, Penelope went all excited to go with her. There was no barking or growling that we could hear. The tech verified that there was none as well. Penelope and the tech came back in all smiles and got more treats. It was such a great visit today! I couldn't be more thrilled and the tech is excited to tell Dr. Decker about how much better she was. They are all excited that Penelope is able to go to daycare as well. Thank you so much for everything that you have taught us and shared with us to help her be a better dog.
Tammy, Shunka & Oso
Dog-dog aggression
Shunka and Oso have NOT fought since the last time we talked to you – so that has been weeks and was even before you came the last time. They are both back to sleeping on the bed with us at night. We are able to take them up on the trail together. Every once in a great while we note some tension (I believe we read this MUCH better now) We are proactive when we see this and just separate them for a bit. This is working well. We are working with the treats and using kibble as the reward. This is GREAT. I think this has REALLY helped. We really appreciated your expertise and advice. You have really helped us out!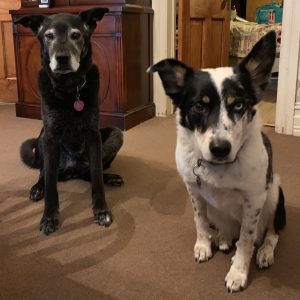 Kathryn & Friederik
House soiling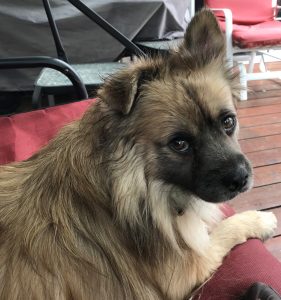 In August 2017, we adopted Friederik, a Keeshond-Pomeranian mix. He was about 4 years old when we got him and had been living on the streets. We'd been told that he was housebroken, which was definitely not the case.
Friederik was our seventh dog and we'd never really had any trouble housebreaking a dog before. But after eleven months of trying everything, we were still finding pee on the floor several times a week. All of the books and websites and message boards we read said exactly the same thing, and nothing was working.
To say we were getting desperate is an understatement. My vet recommended that we try Lynne. The improvement has been positively overwhelming! Lynne picked up on little things that made all the difference in the world. What might have worked for most dogs wasn't working for Friederik and Lynne helped us to refine our training methods in such a way that there was an almost immediate improvement. I can't recommend her highly enough!
Betsy, Jane & Sparky
Reactivity and aggression towards people & dogs
Thank you for your expert guidance. Sparky and I appreciate your guidance and role modeling what "good" looks like. We had a great walk just now with lots of people out and no incidents. Today Sparky and I went on our usual 1.8-mile route at 6 a.m., and I had many opportunities to practice the training tips. We encountered 8 dogs, and I only needed to use the management strategy with two of them. Even at that, he only barked a couple of times. With the other 6 dogs, I caught Sparky in time to give the sit command (he did each time), to give him a treat that I placed in front of my face before tossing it on the ground. I backed up a few steps and repeated the drill. I was so proud of him. Thank you for helping all of us. Today's success is very exciting!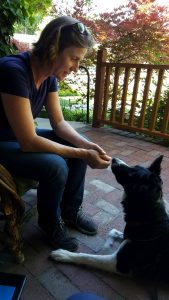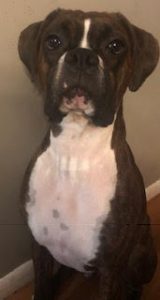 Shaela & Bo
Fear-related reactivity
Bo a 2-year-old male boxer presented with redirected aggression (fighting) with three other family dogs. He also presented with reactivity (growling, barking, and lunging) towards dogs when on-leash and through the yard fence.
Check out the videos!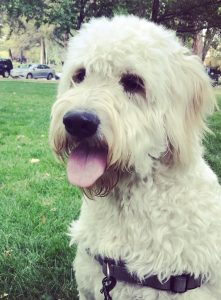 Kerstin & Max
Car troubles!
Lynne, I've been meaning to tell you that max is doing really great getting in the car — as long as I ask him to get in on the passenger side. Thank you so much for your help. It's made a major difference in our lives. I never would have thought to change the door he gets in through. Thank you!!
Jack, Debbie, Shadow & Kazoo
In-Home Dog-Dog Aggression
We rescued a male Sharpei from a city shelter. He had an unknown history and a large part of his life was on the street. This presented aggressive behavior issues with our other, female Sharpei and the rescued male attacked our female. Dr. Lynne was recommended by our veterinarian. She has spent two, four-hour sessions with us and she has completely re-wired the male Sharpei brain. It took work and consistency on our part, but I feel the work was all down the absolutely correct path. Thank you, thank you, Dr. Lynne.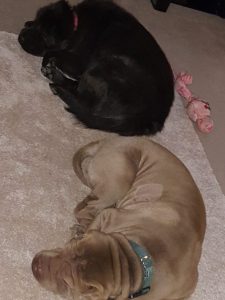 Shawn & Celia
Puppy training
Sometimes it's just about teaching basic skills in puppies in a positive way so that both owner and pup can enjoy life to the max. And that includes recall! Check out the video below
She was great! She did start to jump in the mornings or when we would arrive home. Overall, I love the progress. Thanks for all that you are doing with Celia. She is such a great dog!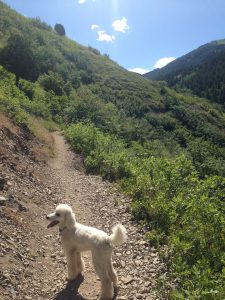 Carol & Rover
Puppy training
Rover and I can not thank you enough for teaching us how to be well mannered, obedient, and trainable all while having fun and allowing puppy antics! Your positive approach helped us to be successful and all of your knowledge is incredible. We appreciate you immensely and hope to make you proud!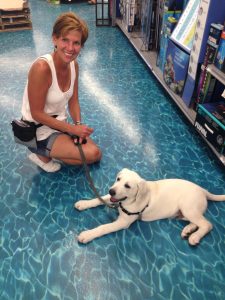 M W
I found Dr. Lynne easy to work with and very practical despite her depth of technical knowledge. Her training methods are ethical and founded in scientific research. This was very important to me in selecting a behaviorist that was knowledgeable to identify and address the root causes of my dog's behavioral problems without causing additional issues or trauma. I only wish I had worked with her sooner so I had more time before moving out of state.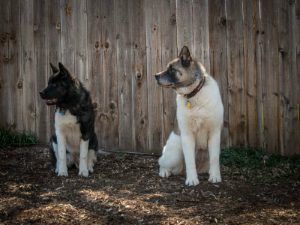 Lisa, Preacher & Echo
Aggression
When we introduced a new puppy to our house Lynne's training and insight were invaluable. With her guidance, our two female Akitas learned to share, play, and live together, which appeared impossible when they first met.
Dr. Mary Pendergast
Lynne has a unique combination of critical thinking abilities acquired through her training as an animal behavior research scientist; balanced with a compassionate understanding of individual animal needs. Her diverse academic, professional, and personal experiences make her particularly well equipped to develop individual and/or family-specific strategies to promote positive human-pet relationships. I have and will continue to recommend Lynne to anyone looking for an animal behavior expert to guide them toward building a more harmonious and healthy relationship with their pet.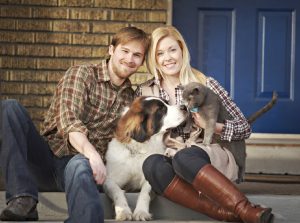 Florie & Lola
Anxiety
We were blown away by the detailed and thorough plan that Lynne devised for us to counteract Lola's severe noise phobia and anxiety. Lynne developed novel ideas that we had not read about anywhere else, nor had been instructed by other animal behavior consultants that we worked within the past. She taught us how the mind of our dog really works, and what thought processes are occurring during a noise phobia episode. Using Lynne's behavioral tricks – such as making the loud noise appear to be the best thing in the world – has really helped Lola get through the episodes in a much less destructive way. Lola's progress thus far is very promising and by implementing Lynne's well-thought-out plan, we are hopeful that we can get Lola to the point where she can self-manage loud noises in the future. Lynne was great to work with, and we highly recommend her for any of your pet's behavioral needs.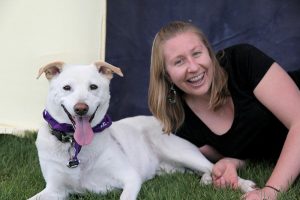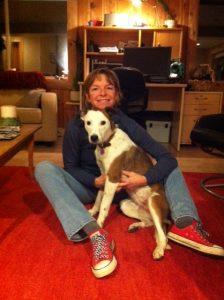 Meagan & Milly
Fearfulness
The advantage of working with Lynne is that she knows how to think like a dog, and can, therefore, offer very good advice when it comes to understanding why your pooch is exhibiting such behaviors, whatever they are…Thanks to Lynne's natural way with dogs, complimented by her extensive research on the subject matter, I am a happy 'new dog owner', and even considering a playmate for Milly. Her input and assistance has been invaluable and has changed my whole attitude about owning a puppy.
Dr. Mary Conner
Charity Dog Event
We had no doubts about who we wanted for the pet behaviorist for Dog Olympics, an annual fundraiser for the Humane Society, and Four Paws; a non-profit animal shelter in Logan Utah. Lynne was our only choice – no one else had the combination of such a high professional level of learning theory and animal behavior expertise, with the icing of her dry English wit. Who else would you want to talk to about your pet's deepest behavioral and training issues?
TJ, Cora & Ruby
Reactivity
Lynne gave us tips on more creative ways of giving Ruby, our pit bull mix, more physical and mental exercise that not only keep her distracted from problematic behaviors such as her aggression, but also strengthen her bond to us and increase her obedience to our commands. Lynne showed us effective ways of socializing Ruby to new dogs and to new people.
Overall, Lynne impressed us because she was able to identify and provide solutions to several underlying issues we never realized were most likely triggering Ruby's aggressive behavior. It seemed that Lynne's solid understanding of canine behavior, as well as her humble personality, helped her provide honest and intelligent insight into our dog's behavioral issues, and create helpful solutions. She did not pretend to quickly treat a problem with a Band-Aid formula but rather sought to understand and evaluate Ruby's behavior and help us, as owners, understand the best way to train her.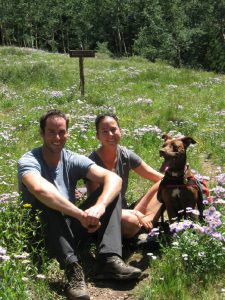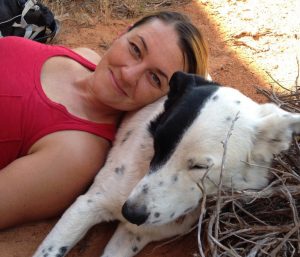 Erin, Kevin & Omar
Exuberance
We were very pleased with Lynne's professionalism, knowledge, and gentle demeanor when helping us address our dog's behavioral issue of jumping up on guests and strangers. She helped us to not only understand why our pup was doing what he was doing but also gave us a step-by-step plan for how we could work to change that behavior. We'd easily recommend her to anyone who is looking for an animal behaviorist who works with you, your family, and your furry friend to make changes in a positive and productive way.