Behavioral Package:
1-1.5 hours in-home consultation + 3 x 1-hour training sessions
Total Cost – $875*
*May be paid in 4 installments (at each session)
Mileage (@ 2023 IRS rate) will be added for each visit over 15 miles (round trip) from 84105

How to Book
in 3 easy steps:
1. Check I cover your geographical area BEFORE you book
2. Choose a day, and time, and fill out the form on the BOOKING CALENDAR below
3. Fill out and return the Behavioral History Form WITHIN 7 DAYS or your booking will be automatically canceled
1. Which areas do I cover and what that means for you?
In-home consultations are available if you live within the 20-mile radius shown below. Mileage is added to journeys over a 15-mile round trip. If you live outside of the area shown you can either schedule a) an online consultation (for issues occurring in the home), b) meet at an outdoor location in SLC (for issues occurring outside of the home), or c) a combination of the two methods.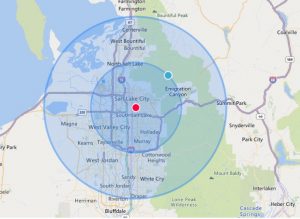 2. Choose a consultation day and time using the Booking Calendar
New client consultations are available Wednesdays and Thursdays at 10 am or 4 pm. To make a booking, click the date you want (a period on the date means 1 of the available times is already taken) and fill out the form
Behavioral issues including reactivity, barking, chewing, digging, fear, or anxiety are reviewed on a case-by-case basis. If your dog has caused injury to a human or domestic animal using any of the biting styles described (# 6 – 9 on the ladder to aggression), then I may not the professional for your dog and I will refer you to another professional for help. The following trainers, consultants, or veterinarian behaviorists do see aggression cases:
3. Fill out the Behavioral History Form to avoid cancelation and have your case reviewed
You will be sent an email with an e-link to a Behavioral History Form once you have booked. You must fill the form out within 7 days of booking online to avoid automatic cancelation. Once I review your Behavioral History Form I will either confirm your consultation or refer you to another specialist, if I know their expertise is better suited to help you.
With current client demands, it is difficult for me to answer calls, however, I will answer brief emails as promptly as I can. Email if you have a question regarding a behavioral issue e.g., reactivity/aggression, barking, chewing, digging, fear, or anxiety and you are unsure how to proceed, or if you have specific questions regarding your dog's behavior.