Aggression, barking, chewing, digging, fear, anxiety?
Book Online in 5 Easy Steps:
Check I cover your geographical area BEFORE you book

Choose an available day and time on the calendar

Fill out the form below to make a PRELIMINARY* Booking

Check your email (and Spam) for an automated reply with an e-link to a Behavioral History Form

Fill out and return the Behavioral History Form WITHIN 7 DAYS of preliminary booking to avoid automatic cancelation
The small print!
There are 2 appointment times (3 pm or 5 pm) on Tuesdays, Wednesdays, and Thursdays for NEW clients (existing clients have more flexibility for follow-up sessions.) Available times appear when your cursor hovers over the day (Tuesdays, Wednesdays, and Thursdays) on the calendar.
*All bookings are PRELIMINARY, held for 7 days ONLY, and are automatically canceled if you do not fill in the behavioral history form sent by email.
Which areas do I cover?
In-home consultations are available if you live within the 20-mile radius shown below. Mileage is added to journeys over a 15-mile round trip
If you live outside of the area shown you can either schedule a) an online consultation (for issues occurring in the home), b) meet at an outdoor location in SLC (for issues occurring outside of the home) or c) a combination of the two methods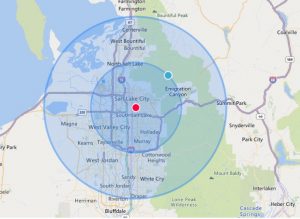 One day I hope to have a wonderful admin person who can answer calls. Until that long-awaited day, it's easier if you briefly email me your questions.
Questions might include if your dog is struggling with a behavioral issue e.g., aggression, barking, chewing, digging, fear, anxiety and you are unsure how to proceed, or if you have specific questions regarding your dog's behavior. With current client demands, it is difficult for me to answer calls, however, I will answer brief emails as promptly as I can.